NAVY GLADIATOR REUNION GROUP
USS SARATOGA
(CV/CVA/CVB-60)


DEPLOYMENTS
The Gladiators of VA-106 made one deployment onboard the USS Saratoga.

11 Mar 66 – 26 Oct 66
As Part of Carrier Air Group 3 (CVW-3), flying the A4C Skyhawk, the Squadron embarked onboard the USS Saratoga (CVA-60) to the Mediterranean.


1965 Cruise Book
Click on picture to view full size
USS SARATOGA
USS Saratoga (CV/CVA/CVB-60) was the second of four Forrestal-class supercarriers built for the United States Navy in the 1950s. Saratoga was the sixth U.S. Navy ship, and the second aircraft carrier, to be named for the Battles of Saratoga in the American Revolutionary War.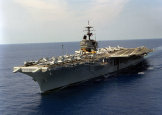 Originally ordered as a "Large Aircraft Carrier" (CVB-60) in 1952, the contract was awarded to the New York Naval Shipyard and Saratoga was reclassified as an "Attack Aircraft Carrier" (CVA-60) in October of 1952. Her hull was laid down on 19 Dec 1952,
Launched on 8 Oct 1955 and commissioned on 14 April 1956. USS Saratoga was later redesigned as a multi Purpose Carrier (CV-60) on June 30, 1975. She spent most of her career in the Mediterranean, but also participated during the Vietnam War, receiving one battle star for her service. One of her last operational duties was to participate in Operation Desert Storm with embarked air wing CVW-17.

Saratoga was decommissioned in 1994, and had been stored at Naval Station Newport in Newport, Rhode Island. Multiple unsuccessful attempts were made to preserve her as a museum ship. The Navy is paying ESCO Marine of Brownsville, Texas, one cent to take the ship for dismantling and recycling. On 15 September 2014, Saratoga arrived in Brownsville, Texas, to be scrapped.
SIGNIFICENT EVENTS

6 June 1957 President Dwight D. Eisenhower and members of his cabinet boarded Saratoga to observe operations on board the giant carrier. Highlighting the President's visit was the nonstop flight of two F8U "Crusaders " spanning the nation in three hours and twenty-eight minutes from the Bon Homme Richard (CVA-31) on the west coast to the flight deck of the Saratoga in the Atlantic.

3 September 1957 Saratoga made her maiden transatlantic voyage sailing into the Norwegian Sea and participating in operation "Strikeback ", a joint naval maneuver of the North Atlantic Treaty Organization countries.

23 January 1961 while deployed with the 6th fleet in the Mediterranean, a serious fire broke out in Saratoga's number two-machinery space, which took seven lives. The crew brought the fire, believed caused by a ruptured fuel oil line, under control and the ship proceeded to Athens where a survey of the damage could be made.

6 August 1961 Lt. Jim Lloyd flying an A-7 Corsair on a bombing mission near Vinh had his plane shot out from under him by a SAM and ejected into enemy territory at night. In a daring rescue by helicopters supported by CVW-3 aircraft he was lifted from the midst of enemy soldiers and returned to the Saratoga.

10 August 1961 One of Saratoga's CAP jet fighters splashed a MiG at night using "Sparrow" missiles.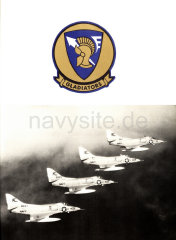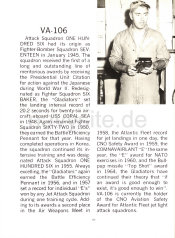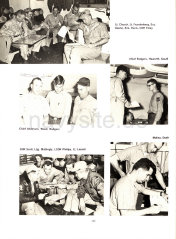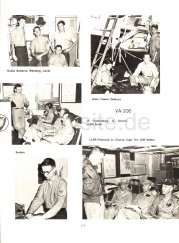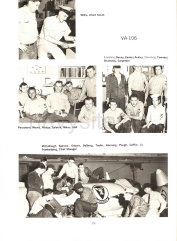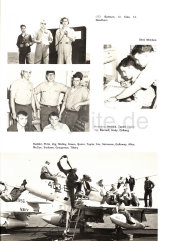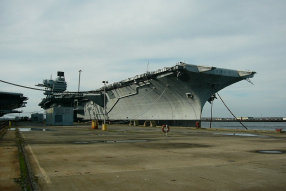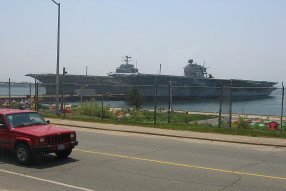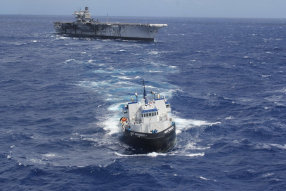 Off the Coast of NC Being Towed to Texas to be scrapped
Aug/25/2014
In Newport, RI
Next to the USS Forrestal
In Newport, RI