NAVY GLADIATOR REUNION GROUP
USS LAKE CHAMPLAIN (CV/CVA/CVS-39)


USS Lake Champlain
USS Lake Champlain was one of 24 Essex-Class aircraft carriers completed during or shortly after World War II for the United States Navy. She was the second US Navy ship to bear the name, and was named for the "Battle of Lake Champlain" in the War of 1812.

Commissioned on 3 June 1945, Lake Champlain did not participate in World War II, but did serve as a transport, bringing troops home from Europe as part of Operation Magic Carpet. Like many of her sister ships, she was decommissioned shortly after the end of the war, but was modernized and recommissioned in the early 1950s, and redesignated as an attack carrier (CVA). She participated in the Korean War but spent the rest of her career in the Atlantic, Caribbean, and Mediterranean. In the late 1950s, she was redesignated as an antisubmarine carrier (CVS). She was the prime recovery ship for the first manned Mercury and for the third manned Gemini (Gemini V) space missions.


Lake Champlain had a unique modernization history. She was the only Essex-class ship to receive the SCB-27 conversion, which was a rebuild of the superstructure, flight deck and other features, but did not receive the SCB-125 conversion, which would have given her an angled flight deck, a hurricane bow and other enhancements aimed at improving flight operations and seakeeping. Therefore she had the distinction of being the last operational US aircraft carrier with an axial flight deck.

Lake Champlain was decommissioned in 1966 and sold for scrap in 1972.
DEPLOYMENTS
The Gladiators of Fighter Squadron VF-62 made one deployment onboard the USS Lake Champlain.
USS LAKE CHAMPLAIN
26 April 53 – 04 December 53

The Gladiators of VF-62, Flying the F2H-2 Banshee, were deployed onboard the USS Lake Champlain as part of Carrier Air Wing CGV-4, operating with Taks Force 77 off the coast of Korea.

The carrier departed Mayport, Florida, for Korea on 26 April 1953 via the Red Sea, Indian Ocean, and South China Sea. Lake Champlain became the largest ship to date to transit the Suez Canal. She moored at Yokosuka, Japan on 9 June 1953.
As flagship of Carrier Task Force 77 (TF 77), she sailed from Yokosuka on 11 June and arrived off western Korea on 14 June. The carrier's air group immediately launched sorties cratering runways; assaulting enemy troops; attacking trenches, bunkers, gun positions; and giving close air support to hard pressed ground forces. Her planes also escorted B-29 Superfortress heavy bombers on their way to enemy targets. Lake Champlain continued to strike at the enemy until the truce was signed on 27 July. Relieved by USS Kearsarge (CV-33) on 11 October, Lake Champlain headed toward the South China Sea arriving Singapore on 24 October. Bidding farewell to the Pacific Ocean on 27 October, she steamed toward home touching at Colombo, Sri Lanka; Port Said, Egypt; Cannes, France and Lisbon, Portugal before arriving in Mayport, Florida on 4 December 1953.
Significent Events

June 23, 1953
Port catapule experiences a runaway shot causing the catapulted aircraft to crash into the sea. All three crew members are rescued by USS Moale (DD 693). The catapult is rendered inoperable and is repaired at Yokosuka, Japan, during the carrier's port visit there June 29-July 11, 1953.

July 22, 1953
LT D.C. Joines, assigned to VF-62 ditches his F2H-2 Banshee over water and is rescued by USS Bremerton (CA 130)

July 22, 1953
SN R.W. Killgrove is seriously injured by an arresting cable which parted during the landing of an aircraft.

July 24, 1953
USS Lake Champlain's helicopter crashes and the crew is recovered by a lelicopter from the USS Boxer (CVA-21).

July 26, 1953
An AD-4B Skyraider ditches alongside the Lake Champlain. The pilot, LT R.E. Brumbach, is rescued by helicopter.
We would like to thank John "Sully" Sullivan for the following pictures taken onboard the USS Coral Sea while deployed off the coast of Korea. (Click on Picture to View Full Size)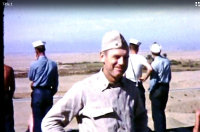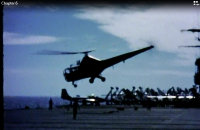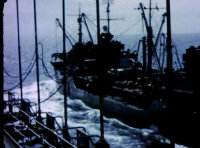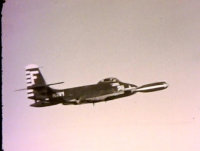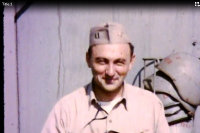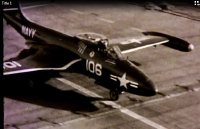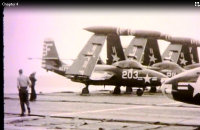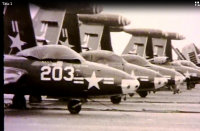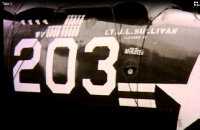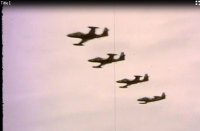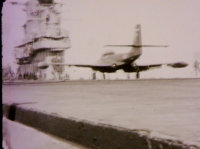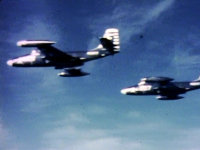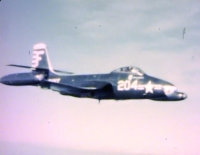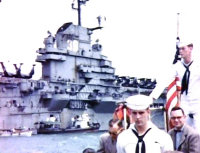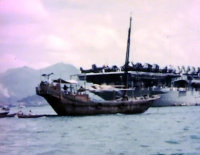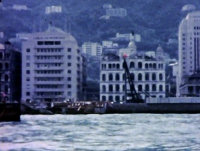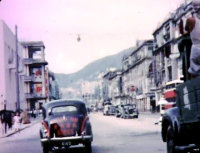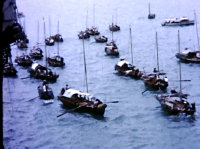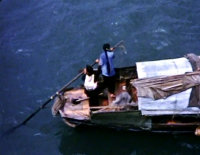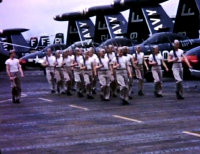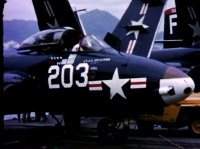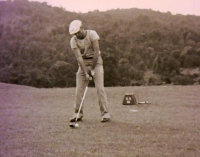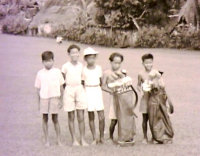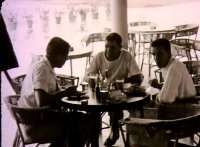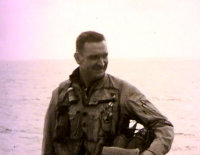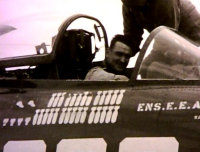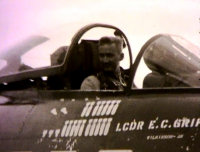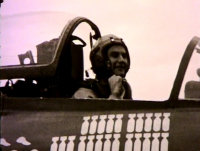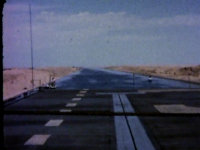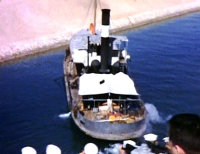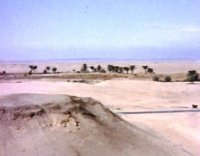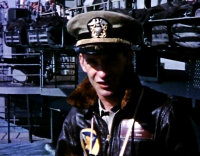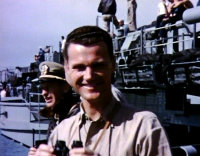 F2H-2 BANSHEE