NAVY GLADIATOR REUNION GROUP
USS ORISKANY (CV/CVA-34)


USS ORISKANY
USS Oriskany Nicknamed the "Mighty O", and occasionally referred to as the O-boat, was one of the few Essex-Class aircraft carriers completed after World War II for the United States Navy. The ship was named for the Revolutionary War Battle of Oriskany fought in Oriskany New York on August 6, 1777.
The history of Oriskany differs considerably from that of her sister ships. Originally designed as a "long-hulled" Essex-class ship (considered by some authorities to be a separate class, the Ticonderoga Class) her construction was suspended in 1947. She eventually was commissioned in 1950 after conversion to an updated design called "SBC-27 Charlie", which became the template for modernization of 14 other Essex Class ships. Oriskany was the final Essex-class ship completed.
She operated primarily in the Pacific into the 1970's, earning two battle stars for service in the Korean War, and five for service in the Vietnam War. In 1966 one of the worst shipboard fires since World War II broke out on Oriskany. At 0727 hours on 26 October 1966 while engaged in air operations in the Gulf of Tonkein, a magnesium flare was accidentally ignited; forty-four men died in the fire.
Oriskany's post-service also differs considerably from that of her sister ships. Decommissioned in 1976, she was sold for scrap in 1955, but was repossessed in 1997 because nothing was being done (lack of progress). In 2004 it was decided to sink her as an artificial reef off the coast of Florida in the Gulf of Mexico. After much environmental review and remediation to remove toxic substances, she was carefully sunk in May 2006, settling in an upright position at a depth accessible to recreational divers. As of 2008 the Oriskany is "the largest vessel ever sunk to make a reef".
The Oriskany is mentioned in the 1986 film Top Gun as the ship from which the main character's father had flown from during the Vietnam War.
FIGHTER SQUADRON SIXTY-TWO (VF-62)
After Oriskany's major modifications at New York Naval Shipyard from 06 March to 02 April, Fighter Squadron Sixty-Two (VF-62), flying the F2H-2 Banshee, was deployed onboard the USS Oriskany on 15 May 1951 on a Med Cruise as part of Carrier Air Wing Four (CVG-4). Joining the 6th fleet near Gibraltar, the aircraft carrier relieved Saipan (CVL-48) at Augusta Bay, Sicily on 07 May, 1951.
USS Oriskany
USS Oriskany on Fire
F2H-2 Banshee
Over the course of the summer, the warship cruised throughout the Mediterranean, visiting ports ranging from Canes and Golfe Juan, France in the west and Izmir, Turkey in the east. She also stopped at ports in Italy and Greece as well as visiting Tripoli in Libya, which was still under British administration while the United Nations worked to establish an independent Kingdom there.
During this cruise Oriskany Participated in Operation Beehive, a joint North Atlantic Treaty Organization (NATO) exercise with French, British and American forces. Highlights of this operation included supporting an amphibious landing exercise at Malta and a flyover by British De Haviland 100 Vampire jet fighter.
Oriskany returned to Quonset Point Rhode Island on 04 October 1951.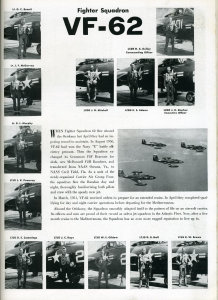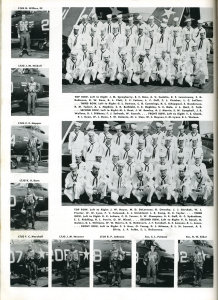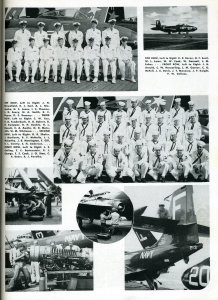 Click on Picture to view full size
I would like to thank Gene Lewis (Oriskany Crewmember 1966-1967) for supplying the above pictures of our squadron. You can visit his tribute to the USS Oriskany at:
www.ussoriskany.us
USS ORISKANY'S FINAL HOUR
On 17 May 2006 as hundreds of veterans looked on solemnly, Navy divers blew holes in the retired aircraft carrier and sent the 888-foot USS Oriskany to the bottom of the sea, forming the world's largest deliberately created artificial reef about 24 miles off the coast of Pensacola Beach, Florida.
Clouds of brown and gray smoke rose in the sky after more than 500 pounds of plastic explosives went off. The rusted hulk took about 37 minutes to slip beneath the waves, about four hours faster than predicted. The Oriskany became the first vessel sunk under a new Navy program to dispose of old warships by turning them into reefs that attract fish and other marine life.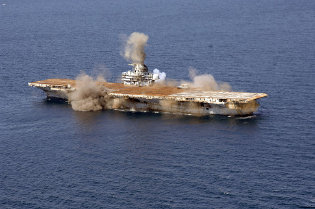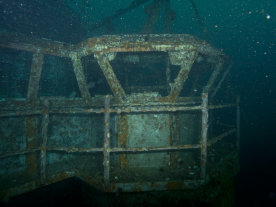 Reef Detonation
New Coral Reef
USS Oriskany Sinking
17 May 2006