The Tragic Fire, July 29, 1967 10:52am


Shellback Information
NAVY GLADIATOR REUNION GROUP
In the U.S. Navy, when a ship crosses the equator a time-honored ceremony takes place. This is a Navy tradition and an event no sailor ever forgets. With few exceptions, those who have been inducted into the "mysteries of the deep" by Neptunus Rex and his Royal court, count the experience as a highlight of their naval career. Members of Neptunus Rex's party usually include Davy Jones, Neptune's first assistant, Her Highness Amphitrite, the Royal Scribe, the Royal Doctor, the Royal Dentist, the Royal Baby, the Royal Navigator, the Royal Chaplain, the Royal Judge, Attorneys, Barbers and other names that suit the party.

Officially recognized by service record entries indicating date, time, latitude and longitude, the crossing of the equator involves elaborate preparation by the "shellbacks" (those who have crossed the equator before) to ensure the "pollywogs" (those who are about to cross the equator for the first time) are properly indoctrinated. All pollywogs, even the Commanding Officer if he has not crossed before, must participate.

A Golden Shellback is one who has crossed the equator at the 180th meridian.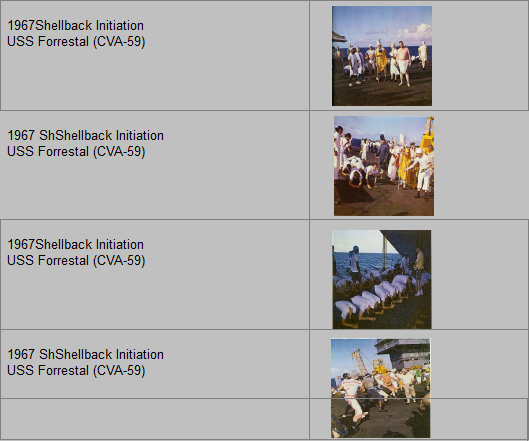 USS FORRESTAL SHELLBACK INITIATION (19 JUN 1967)
USS INTREPID SHELLBACK INITIATION (18 JUN 1968)
Latitude 00 00 00 Longitude 40 00 00W
"Click" on Picture to view Full Size
Shellbacks, are sailors who have crossed the equator. Pollywogs, are sailors who have not crossed the equator. Shellback Initiation is the ceremony which converts pollywogs to shellbacks. This ceremony is said to have dated back to the early days of the Royal Navy and was originally created to test a new sailorís ability to withstand long, hard days at sea. Early shellback initiation ceremonies involved beating wogs with wooden planks, wet ropes, and in some cases, dragging sailors overboard. It is historic fact that some sailors died while participating in Shellback Initation.
09/04/12