NAVY GLADIATOR REUNION GROUP
About Us
Who We Are
served on many of our nation's finest aircraft carriers in waters all over the world.
Our mission is to unite all Gladiators through our quarterly newsletters and annual reunions, insuring the camaraderie and friendships we established during our years of service in the United States Navy continues to be a valued treasure in each of our lives.
The Executive staff is elected for two-year terms. Membership dues are paid yearly. Annual reunions, normally held in October, are held in various locations as voted upon by the members. In 2005 we originated our "Freedom Box" project. Since it's inception we have shipped boxes of assorted items to active duty members serving in our nation's military. Since 2006 we have shipped 100 Freedom Boxes to date.
Mr. Ed Knapp
March 13, 1938-December 22, 2004
Over the years many of our shipmates attempted to establish contact with each other. In the late 1990's our founder, Ed Knapp, began a concentrated effort to assemble a listing of as many Gladiators as possible with the ultimate goal of a major reunion. Through the use of computers the listings grew rapidly. It seemed each Gladiator was in contact with at least one other Gladiator; the circle grew larger resulting in over 350 Gladiator shipmates found. Today, our search continues with "new finds" being added to our membership role periodically.
In September, 2000 we held our first GLADIATOR REUNION in our homeport area of Mayport Naval Air Station and Cecil Field Naval Air Station west of Jacksonville, Florida.
Ed Knapp served as our first Commanding Officer until his death in December, 2004. His dedication and devotion to his Gladiator shipmates exemplified his focused mission of joining all of us together in reunion activities. He served us well; we honor him and the accomplishment of his worthy mission.
Mr. Ed Knapp. 1938-2004
2000
2001
2002
2003
2004
2005
2006
2007
2008
2009
2010
2011
Jacksonville, FL
Jacksonville, FL
Pensacola, FL
Charleston, SC
Jacksonville, FL
Branson, MO
Corpus Christi, TX
Jacksonville, FL
Washington, DC
Tucson, AZ
Branson, MO
Lexington, KY
Ed KNAPP
Ed KNAPP
Ed KNAPP
Ed KNAPP
Ed KNAPP
John KNOTT
John KNOTT
Monte TOON
Bob COE
Bob COE
Bob COE
Bob COE





2012
Charleston, SC
Bob COE
10/19/2017
2013
Gettysburg, PA
Bob COE
2014
Pensacola, FL
Bob COE
2015
Nashville, TN
Bob COE
2016
Washington, DC
Monte TOON
A standard box would contain items such as body wash, body lotion, lip balm, Neosporin, razors, shave gel, deodorant, toothpaste, toothbrush, disinfectant wipes, a game such as cribbage or dominoes, a DVD movie, disposable camera, energy bars, microwave popcorn, peanuts, cookies, crackers, jerky or slim jims, sunflower seeds, drink mixes to add to water, coffee, coffee creamer, individual servings of Mac n' cheese, ravioli, spaghetti, packages of ninety-second rice, chewing gum, skittles, licorice, and hard candy. We also include a Gladiator pin and a post card addressed to our Freedom Box Chairman to give to someone else that would like to receive a box. They just have to fill in their name and mail it. A letter, printed on special blue paper with red and white stars along the borders is also inserted into each package to explain who and what the Gladiators are.
The Freedom Box project is totally funded by donations from our members along with some of the proceeds from our silent auction and raffle held at our annual Gladiator Reunions. If you would like to donate to this worthwhile project, please contact our Treasurer by clicking on the link below.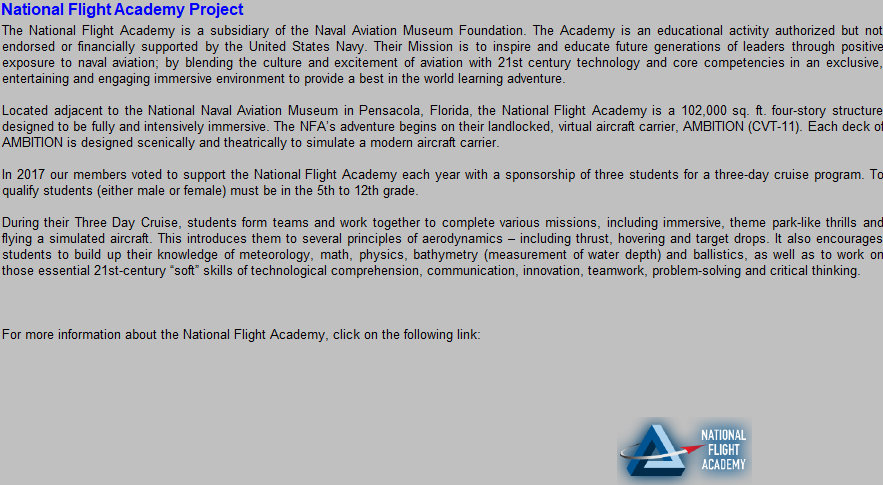 Hampton, VA
Monte TOON
2017
Pensacola, FL
Walter HULSE
2018